UN bodies Confirm States must Pursue the Highest Possible Ambition in Emissions Cuts under Human Rights Law
In the lead up to the UN Secretary General's Climate Summit in New York next week, five human rights treaty bodies have sent a powerful message to States that increased climate ambition is required to protect human rights. Today five independent, expert human rights bodies that monitor the international human rights treaties, issued a Joint Statement on human rights and climate change, highlighting that States have legal obligations to protect human rights from the adverse impacts of climate change, including by urgently reducing emissions.
The five bodies are: the Committee on the Elimination of Discrimination against Women, the Committee on Economic, Social and Cultural Rights, the Committee on the Protection of the Rights of All Migrant Workers and Members of their Families, the Committee on the Rights of the Child, and the Committee on the Rights of Persons with Disabilities.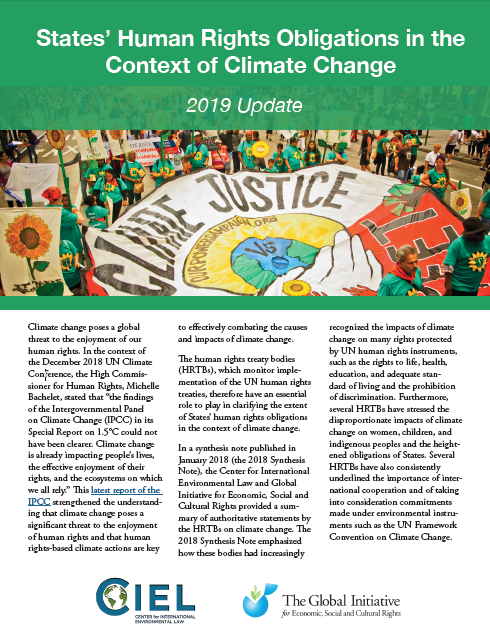 The Statement underlined the disproportionate adverse impacts of climate change on women, children and disadvantaged or marginalized groups, such as persons with disabilities. The Committees stressed that such groups should also be recognized as agents of change whose ideas and perspectives are essential for designing and implementing durable responses and solutions to climate change.
Read our joint press release with Center for International Environmental Law (CIEL) here.
For more information on the human rights treaty bodies' work on climate change and human rights, see our Latest News post about CEDAW's adoption of a General Recommendation on disaster risk reduction in the context of climate change, or read our recent joint report on States' Human Rights Obligations in the Context of Climate Change.
Interested in learning more? Sign-up for regular updates on developments in economic, social and cultural rights at the UN.